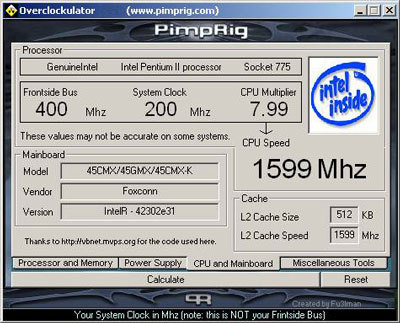 Overclockulator 1.34b | 1.07mbdescription:
fully featured calculator that vastly simplifies the process of calculating
This
is a calculator, nothing more, it does not read information from your
systems BIOS, nor does it use any drivers to gather any information
from your PC to display, it is only a calculator...in fact, the only
part of this that gathers any information is the S.M.A.R.T. info, and
it is almost irrelevant to your calculations, and is simply implemented
for peace of mind.
I made this calculator to address an issue
that I commonly saw in forums and the overclocking community in
general, noobs who are dumfounded by what a system clock does, or
veteran overclockers looking for something to take the guesswork out of
what settings will be optimal
, not to mention the system builders
just looking for a tool to guage the strenths of their systems and the
appropriate power supply to accompany it.
The framework of what
you are using right now was my very first real project, and has been a
learning experience and a half. It was written over the better part of
7 days, and is, by all accounts, a pretty basic application, certainly
nothing that a typical programmer would consider a difficult task, so I
will just come out and say it before everyone else does.
All in
all, I hope you enjoy using this calc as much as I enjoyed making it,
it will always remain FREEWARE, will never, EVER contain anything
dubios such as spyware, adware, or trojans, or contain anything
destructive to your system.
Features:
??· fully featured calculator that vastly simplifies the process of calculating
??· a potential overclock.
??· integrated HDD health checker (S.M.A.R.T.), thanx to Yogesh Vachhani for the source.
??· a calculator for converting temperatures from Centigrade to Fahrenheit and vice versa.
??· VRAM calculator to make the task of overclocking your video card a little less guesswork.
http://www.easy-share.com/1904540323/0ver.cl0ck.ulat0r.rar